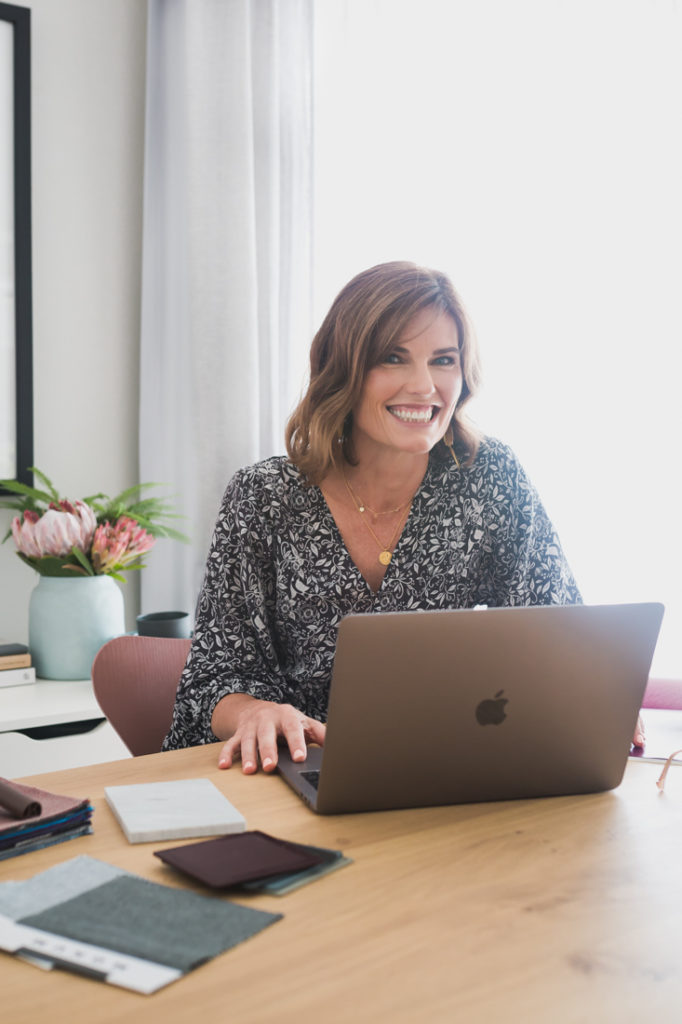 LISA AND JAMIE, COTTESLOE
Interior design and decoration of new build
'Megan Prentice has assisted me with the interior design on two new homes, literally providing me with support from the ground up. Megan expertly navigates the building design process, offering insight from the planning stage, right through to the sheets on the bed! She works incredibly well with builders and architects to ensure a seamless approach to home construction. She takes the client's brief into consideration and layers in design options which inspire and transform. Megan creates major design elements and expertly knows when to accentuate key pieces, whilst all the time working within budget constraints. She has an amazing sense of style and her product knowledge is second to none.'
JULIE AND TONY, SWANBOURNE
Interior design of new build and refurbishment
'Megan worked with us and our budget to create a very harmonious, warm internal space for our new home. This included all fittings, cabinetry, furniture, wall art, and colour schemes. She has her own style which I found easy to align myself with, but she also works hard to reflect back your ideas, personality, desires and pieces of furniture or art so that you are creating your own space and not a show home.  Megan is great to work with, efficient, communicative and decisive.  But I most like her energy and excitement when it all comes together – she makes the creative process something to be savoured and enjoyed.'
MICHELLE AND BRENT, TRIGG
Interior design and project management of existing home
'Megan is an absolute pleasure to work with and made the whole renovation process incredibly easy, fun and thorough.  One of Megan's greatest strengths is her project management skills and the relationship she has with all of her trades people. We had no delays, everyone turned up on time and all of them had quality workmanship. Megan's attention to detail is exceptional and she has a wealth of knowledge in designing and creating our beautiful home.  I would absolutely recommend her to anyone.'
DANIELLE AND JASON, SORRENTO
Interior design and decoration of existing home
'We were given Megan's number by a friend who had used her for their new build.  I rang Megan in a panic after our house had flooded and we were told to move out for six months while they repaired the damage.   We work in construction and have renovated numerous times but never to such a tight deadline with no planning lead in.  I had ideas as to what I wanted but couldn't source the items.  Megan was fantastic; the time she saved us in sourcing products was worth every cent.  I loved that she challenged me when I may have chosen to play it safe if left to my own devices and she gave me plenty of food for thought.  All her tradesmen and suppliers were great to work with and their finishes were perfect. Then there is Megan, I felt like I had found an old friend (we are sooo young!), she is easy going yet efficient, fun yet got down to business.    She really made what could have been a stressful period into something that was actually fun and we ended up with our dream home on deadline and on budget.  I really couldn't recommend Megan highly enough.  You'll save time, money and sanity and end up with a stunning home!
MARISSA AND RONAN, DOUBLEVIEW
Interior decoration of existing home
Working with Megan on interior choices I could totally relax and enjoy the process knowing full well she knew exactly what would suit our personality and lifestyle .   There is nothing better than having that trust in her style and knowledge to make choices quickly and decisively as well as the advantage of accessing many different and varied suppliers and products.
I know many of Megan's happy clients whose homes are amazing thanks to her talents and the process made fun by her frankness, humour and personality.
SHANNON AND MARK, WEMBLEY AND LEEDERVILLE
Interior design and project management of existing home
Megan Prentice…what a legend, we love her to say the least.  I've asked Megan to assist numerous friends and family with soft furnishings and had rave reviews in return. I have not yet met anyone who she doesn't get along with or whose needs or budget  she doesn't understand.
I have asked Megan to assist us in two house renovations which resulted in a much less stressful and more streamlined process in which she truly went above and beyond what one perceives an "interior designer" to do.  I was able to continue in my other responsibilities and had utmost faith in the selections we had chosen together and how these would play out.
I'm now looking at another project in which to engage her again………working with her is such a joy and I look forward to doing it again very soon!
TRAVIS SMITH  TRAVEL TREE, CLAREMONT
Commercial Refurbishment
"We commissioned Megan Prentice and her team in order to assist with our office refurbishment & fit out. Megan promptly visited us onsite and was quick to determine the scope of work required & understand our needs. Megan was able to come up with innovative solutions to complete the job in a cost effective and timely manner. All of the quotes obtained were very competitive and the trades finished the work to highest standard. Importantly Megan and her team gave us a confidence throughout the process and made it a very painless experience. I cannot recommend them highly enough. Travis Smith, Travel Tree Corporate"
DEB AND BILL, NORTH BEACH
Interior design and decoration of new build
"Megan was amazing to work with. I had some clear ideas for my interior and exterior finishes but Megan took them to another level. She turned my new build into something truly beautiful, fresh, timeless and complementary to some of the midcentury looks I was after. I can not thank Megan enough. Her communication and ability to listen helped me turn my dream house into a reality".
LINDA AND JASON, WEMBLEY
Interior design and decoration of existing home
"We are so thrilled with our house transformation. Thank you Megs for making that possible. You have a natural talent for bringing a space to life. Our living spaces are now modern and fresh yet blended beautifully with the 1920s era of our home. It was a seamless process and we enjoyed working with you!'
ALISON AND PAUL, WATERMAN'S BAY
Interior design and decoration of new build
"Working with Megan was such an amazing and positive experience. From design concept to finished home, she made the journey fun and exciting. Her ability to source items within our design brief for everything from lighting, curtains, furniture, tiles and cabinetry made the selection process so much more efficient and less stressful, giving us more time to manage other aspects of the project. We are so thrilled with the end result! I would highly recommend Megan for any aspect of interior design, she exceeded all of our expectations and has helped us achieve the most beautiful home. We constantly get comments on how gorgeous and yet functional our home is and it is all thanks to Megan."
KATE AND ADAM, SORRENTO
Interior design and decoration of existing home
"I can't recommend the lovely Megan Prentice enough! Her incredible sense of style and fresh ideas gave me renewed excitement about updating my family home. Along with her enthusiasm, she proved the services of fantastic trades who were prompt, professional and reliable. Megan's communication and regular updates made the whole process easy and stress free!
We love all the products and design ideas Megan sourced for us and her project management skills are next level…thanks again Megs!"